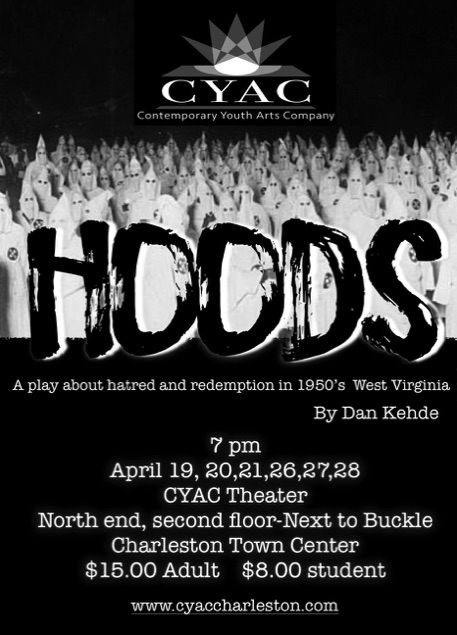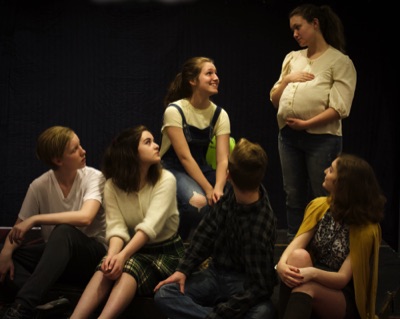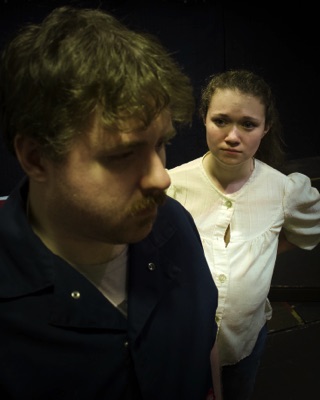 The Contemporary Youth Arts Company opens it's new theater space at the Charleston Town Center Mall with the hard hitting drama "HOODS" beginning April 19 at 7 pm. The story of how one man in rural 1950's West Virginia is forced by circumstance to choose between his family and his bigotry, HOODS is a powerful lesson in the culture of hatred and the dangers of the deep seeded racism still prevalent throughout the nation. Strong language and intense situations make this inappropriate for children under 12.
CYAC is proud to be able to open it's new theater with this production. Located on the second floor of the Charleston Town Center,[ north end, across from Macy's, next to Buckle] this new space offers seating for sixty patrons with curtain time now moved to 7 pm from it's traditional 8 pm to accommodate the 9 pm closing time of the mall. Tickets, available at the door one hour prior to curtain, are $15.00 for adults and $8.00 for students and seniors.
Our cast includes Nik Tidquist, Siercia O'Brien, Aaron Stull, Matt Connelly, Grace Javins, Maddie Wright, Charlie Long, Rubin Shirley, and Jenna Keesee.