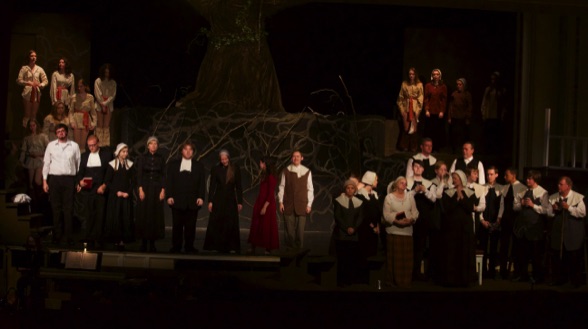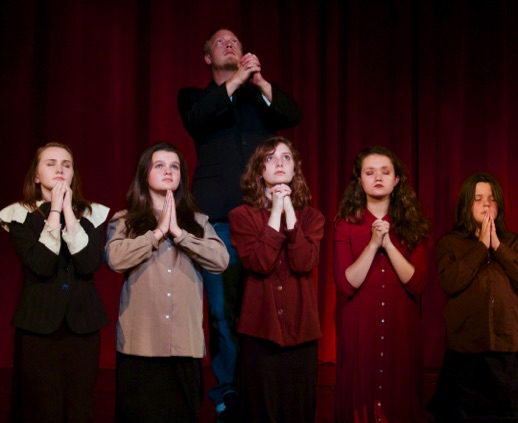 Mark Scarpelli and Dan Kehde's new musical drama
Come join us as we premiere yet another major new work by Mark Scarpelli and Dan Kehde. A huge set, incredible voices and an outstanding new score is sure to make this an evening of theater that you won't soon forget!
8 pm September 28-30, October 5-7
2 pm October 1
West Virginia State University Capitol Center Theater
123 Summer Street, Charleston.
$8.00 Student/Senior $15.00 Adult
The people of Salem Village blame witchcraft and devilry for the fall from grace that led to Indian attacks, starvation and illness. In a charged atmosphere fueled by religious fervor and puritan intolerance, Mercy Lewis, a teenager scarred by the memory of the torture and death of her parents at the hands of the Wabanaki tribesmen, lures the children of Salem into her tangled web of lies and hallucinations. Suspicions of witchcraft bloom into accusations, investigations and, finally, condemnations as mass hysteria envelops the town and no one, no one except Mercy and the children, is safe from the hangman's noose.
A large, very talented, multi- generational cast under the direction of librettist Dan Kehde, become members of this troubled community. A ten piece orchestra under the direction of composer Mark Scarpelli accompanies, with additional orchestral arrangements by Eli Chambers. Nationally renown dancer and choreographer Rob Royce choreographs.
2017 Cast of Mercy
Mercy Lewis…Erin Martin
Tituba…Siercia O'Brien
Ann Putnam Jr…Susanna Atkins
Betty Parris…Fiona Sullivan
Abigail Williams…Jenna Keesee
Mary Warren…Grace Javins
Elizabeth Parris…Avery Page
Ann Putnam Sr...Kim Javins
Sara Good…Paula Kaplan
Betty Osborne…Faith Medley
Elizabeth Proctor…Amanda Mandirola
Rebecca Nurse…Joy Thomas
Bridget Bishop…Roza Beller
Mama Lewis…Sheila Jarrett
Rev Parris…Kenneth Morrison
Rev. Lawson…Daniel Calwell
Thomas Putnam…Blaize Hurlbutt
George Burroughs…Nik Tidquist
Judge Corwin…Brett Smith
Judge Hathorne…John Boggess
John Proctor…Matt Connelly
Papa Lewis…Clint Thomas
Dr. Griggs...Lee Armstead
Cheever…Jakob Spruce
Giles Corey…Leon Alexander
Little One... Molly Sullivan
Alice Booth…Sara Jo Bender
Mary Walcott…Audrey McMillion
Rose Foster…Kristen McMillion
Betty Hubbard…Amanda Skidmore
Martha Corey…Jody Giancola
John Willard…Kent McMillion
Samuel Wardell…Rubin Shirley
George Jacobs…Casey White
Hangman, Bartender…Bob Sylvester